J. D. Inspection, Inc.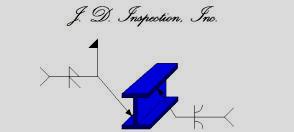 About us.
Whether it is a fabrication process problem or a safety compliance issue, J. D. Inspection, Inc. has the Non-destructive Testing experience to keep flaws from impacting the design criteria of the product for our customers.

J. D. Inspection, Inc. was established in 1988 as a consulting firm specializing exclusively in the structural weld inspection and non-destructive materials testing services. Although the firm is a New Mexico born small business company, we continue to pursue experienced personnel and we are continuing our education to keep pace with today's ever changing technology to provide our clients with quality services at reasonable rates.

Our expertise and experience in the field of non-destructive testing and inspection will continue to provide our clients with a valuable asset in accomplishing project quality assurance needs. Being a small, specialized company, we are able to provide the close communication that is so vital in cost effective fabrication and construction.

With our fully mobile equipment and excellently trained staff, J. D. Inspection, Inc. can meet all in-house or portable N.D.T demands that your company may have. Our trained, experienced, and professional inspectors who, through personal integrity and professional competence, provide our clients with the assurance that our work meets the stringent requirements of sound non-destructive and inspection testing practices.
Here's a great article from the Los Alamos National Laboratory.
"A New Approach to Construction."
Los Alamos National Laboratory is operated by the University of California for the U.S. Department of Energy's National Nuclear Security Administration
---